Happy New Year!!

I have been reading lately, or trying to.
Me reading consists of doing another task while reading (or trying to absorb some information).
So I'll be cooking dinner- while reading, baking- while reading or vacuuming- while reading, or doing washing or ironing- while reading. It is fragmented reading, but I have to think of it in a positive light. With each new fragment I have read, I have mulled over the last piece ready to process more and hopefully with new understanding.
Actually I'd have to say my best reading time is while I eat breakfast with my children, It is only about 5 minutes, but they are so hungry from growing all night, they don't want to chat- just eat. So I read a little while they eat a lot!
So getting back to what I've been reading.
I have been reading about mother recipes. These are the base or foundation recipes that you build from. Using mother recipes you can build almost anything. The worlds foods are based on mother recipes. Look at any cuisine you'll find mother recipes at work. For example Lasagna uses two in their basic form.
We mostly find 'mother sauces'. And while I never had heard of them ( Mother Sauces) before (clearly self educated/ uneducated food wise!) I found I'd been using them my whole cooking life.
Think Bechamel, Tomato base sauce, stock based sauces (
Velouté
,
Espagnole
) Hollandaise.
This kinda follows through into other foundation pieces in cooking, (Total disclaimer follows...) and I am no professional, and have had no culinary training, so this is just my take on the idea behind the mother recipe.
So for example I have a great GF/DF pasta dough recipe, it leaves a lot of open creation, once you've made the dough.
And I have been working on a simple yet effective bread dough recipe. I am so tired of having 35 ingredients and an egg- just to make some bread!
I just wanted a dough that was a few simple ingredients, readily available, that everyone could eat, that makes a good bread, and leaves itself open to make other dough based recipes, like a pizza base, a calzone, a pull a part bread, a sweet bread, a cinnamon bun, etc, etc...
Was I really asking that much? Well yes, but that's what makes a good mother dough ;)
I had a friend a while back tell me about a mythical gluten free pane di casa, which in the end was non existent. This is what sent me down this trail in the first place.
I spent some time in collaboration with a fellow etsian who has developed some great bread recipes.




His recipes are copyright so I cannot provide one here. However I would recommend popping over to his
etsy store
(recipes @ $3!!)
His bread recipe is what I have based my 'mother dough', I made a few changes just for ease of use, taking a step out here and there (typically for effeciency), and plus I use my stand mixer to knead the dough silky smooth.
One thing. Onece baked-
Be sure to let your bread cool completely
, it is still cooking as it cools, and that last step is crucial to a great loaf
It makes a nice bread and ticks all the boxes.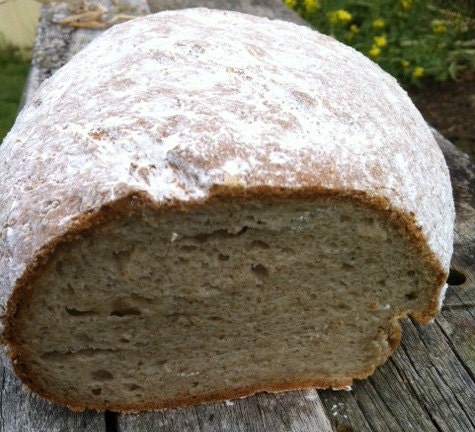 This was one of my attempts at Chris' recipe. I rolled my dough in oil and flour before I baked it to give it a little bit of an artisan look.
Seriously delicious, my kiddos kept asking for more, even after their fourth slice- I had to cut them off, they weren't even hungry they both had only just had lunch right before the loaf finished cooling!
Time to rate the bread:
10/10- Would I go back for more?
YEP!
Have and will continue to. This is because it makes great pizza, foccacia, calzones, croissants, bagels, anything bread based, etc..

Look at that calzone! My kiddos affectionately call them pizza pockets.
(I actually believe it makes a better everything else than the bread itself, that's not saying the bread isn't nice... just that My family's fave pizza base is now this dough, etc, etc)
cost:
9/10- Approximately (depending on where you source your ingredients) $3 per recipe which yields a regular loaf (or 2 regular for GF sized loaves) , 4-5 pizza bases depending on the size and thickness you prefer, 8-10 calzones/ croissants.
Making this loaf is quite reasonable considering a comparable (regular small GF sizing) loaf in your grocery store is approximately $7 these days. It is not as cheap as the dollar loaves of gluten full bread, but it is the least expensive I have found so far.
Longevity: 4/10 The day of baking is really the best day to consume this bread.
Day 2 was still good for sandwiches, day 3, 4, 5 and 6 needed refreshing, I have still not had mould grow on this bread and have tested as far as 8 days, even then after refreshing it was still good to eat (immediately- after cooling it went slightly rubbery).
Freezing: 7/10 This bread is awesome from freezing, not exactly back to day 1 texture but definitely good enough to use from frozen for sandwiches that day. Like any bread slice before freezing and just use what you need.
Toasting: 7/10! This is some pretty good toast. Not quite as good as Japanese milk toast, but next on the list
Overall rating: 7.5/10
This dough provides a great all purpose mother dough. Making it is easy with only about 7 ingredients, and so an easy choice when it comes to what to make. The simple ingredients and similar to traditional dough making method make it an easy transition from regular bread making or even (like me) a novice.
Check out Chris's recipes on his etsy page
recipes for living